Flow of Enrollment and Japanese Courses
Contact MACC

Explanation of How Course Proceeds

Enrollment・Needs Analysis

Starting Level, Target & Schedule Finalized

Lesson Starts

Lessons Continue

Various Class Activities, Level Checking & Test, Counseling

Target Completed
Some of Our Japanese Training Materials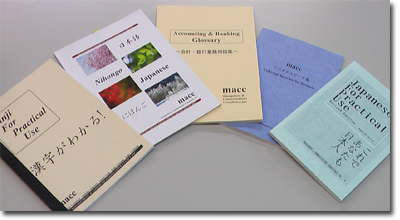 Initial Learning Kit

This set is specifically designed for participants who intend to start learning Japanese before coming to Japan. It not only gives basic information about the Japanese life, but introduces the participants to Japanese pronunciation, survival situational dialogs, script, basic words & expressions, and the first stage of grammar so that they can resume their program in Japan with a good solid foundation of the basic knowledge of the language acquired in advance. The Kit includes several sets of achievement tests, which participants can take and complete by themselves, and send by e-mail. The results are analyzed and returned to participants with comments and advice for further progress.

Kana Association Program, Kanji Association Program and Vocabulary for Fun

These programs for Japanese characters and words shorten the learning time by 1/5 compared to the ordinary method. We use associations in English (A French version is also available for Kana.) With pictures and hints, the trainees can learn each of 46 Japanese syllables within 90 minutes, and are expected to recognize the meaning of 50 Kanji characters in 90 minutes. Also about 300 basic words are learned with witty puns and word associations.

Kanji Association Book Vol. 1 is now available (published in 2012) to accompany our kanji session.

It contains 52 basic characters and combined words whose meanings are learnt with our original association method. It covers kanji for daily use including numbers, directions, and various street signs.

With this book, the trainees can enjoy finding kanji they know and guessing the meaning of a sign while they are walking around in a town.

Japanese for Practical Use (JPU)

More than 100 situational dialogs have been produced based on clients' actual experiences, and cover the functions and situations for their daily use of the language. This gives the trainees confidence to communicate in Japanese even after the first lesson as the textbook contains natural conversations, not a modified "classroom" Japanese. This comes with a CD.

Kanji for Practical Use (KPU)

This book contains survival kanji with pictures which are used for menus, street signs, tags, instructions and notices. It enables the trainees to be independent in reading and understanding the information necessary for their daily life.

Intermediate Kanji

Kanji is grouped for businesspeople and their spouses to easily master one section at a time. It covers kanji at the Intermediate and the early Advanced Level.

Collected Speeches for Business

This book contains 47 speeches to be addressed both to the people outside and inside the company. All the typical occasions for speeches are covered including a variety of ceremonies, parties, meetings and receptions, and can effectively be used by diplomats and business executives at the Upper Intermediate and the Advanced Level. Useful expressions related to speech making such as honorific words and proverbs are listed for reference.

Japanese for Business

This contains conversations, expressions and vocabulary for business situations as well as some useful information about Japanese business customs. Trainees who have transactions with Japanese companies can benefit from using this book.
MACC Guideline & Rules (Abstract)
Notice of lesson cancellation and/or request for making arrangements for lessons:
MACC office should be contacted for cancellation of any specific lesson dates/hours/venues, etc.
The informetion should reach MACC before 5:00pm of one working day prior to the lesson day.
Otherwise 100% of lesson fee is charged.
Pricing
MACC's general pricing levels and scales of volume discounts are offered upon request.
Our price structure includes the charges below:
Charges for providing instruction
Charges for comprehensive management and control to run the corporate programs
Charges for developing various training materials
Charges for arranging, ordering and distributing textbooks
Charges for planning and analyzing regular or irregular tests and quizzes, level checking, feedback, and annual evaluation
Charges for the traveling time to and from the lesson location