MACC Method (CCS:Cross-Cultual Superimposition)
A highly effective Japanese language learning process has been developed specifically for businesspeople, diplomats, and their spouses living in Japan.
Adult learners are not newborn babies.
Every adult learner already possesses language skills. It is not necessary to deliberately avoid one's own language when learning a foreign language. Rather, existing knowledge can be a valuable and effective reference. It can assist learners in understanding the comparative structure and context of the target language.
Language and culture are inseparable.
Language is the essence of culture itself. Language is a medium for the communication of culture and patterns of thought. The attainment of communications skills in Japanese requires cultural immersion and a realignment of thinking, in addition to practical, pragmatic language learning.
Language is better acquired by utilizing the synergy effect of four skills.
Speaking, listening, reading and writing can all be combined to achieve balanced and effective training. Through listening and reading, stimuli can be gained from native speakers, and words and expressions that have been accumulated can be used for self-expression in speaking and writing.
MACC Method Encourages a Logical Approach,
Furthers Cultural Understanding,
and Promotes Accuracy & Fluency for Effective Communication.
Account Management
MACC has offices in Tokyo and Kobe, and schools in Tokyo, Osaka and Kobe, from which the company can serve extensive geographical areas in Japan including both the Kanto and the Kansai regions.
MACC currently has 60 fully qualified Japanese instructors, both male and female. Our instructors are of varying ages and backgrounds, which enables us to match instructors very closely to the individual needs of our trainees in terms of both learning style and lesson schedule. Should, for any reason, an instructor become unavailable, clients can be assured that the replacement will be of equal ability and competence. Every confidence can be had in our ability to maintain the flow of the corporate language training and to act as a highly efficient outsourcing agent.
MACC forms a dedicated account team for each corporate client with a large number of trainees.
Regular Instructor Assigned
MACC assigns a regular instructor to each program. Based on our professional experience, learning efficiency is generally enhanced at least 20-25% by adopting this system.
Clearer responsibility assumed by the instructor for learning progress and outputs
Tailor-made approaches taken by the instructor which meet the specific needs and learning style of the trainee
Timely feedback and detailed counseling provided
Consistency and quality control introduced to the entire program
Learning efficiency increased, based on the cumulative knowledge and experience gained from completed lessons and the relationship established between an instructor and a trainee.
MACC Japanese Instructors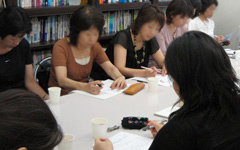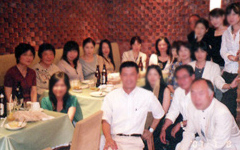 Our Japanese instructors are recruited to the highest standards and only after the most careful consideration. The following conditions must be satisfied and educational standards achieved before we accept applications, and even then, applicants must pass two tests including a trial lesson. We assess their ability and potential, commitment to the MACC teaching style and their overall suitability as teachers of our clients.
At least, a Bachelors' degree from a renowned university
Certificate for Teaching Japanese as a Foreign Language
Native Japanese speaker
Good command of a non-Japanese language (typically, English, German, French, Chinese, Korean, and Spanish)
Experience of living or having an extended stay outside of Japan
Business experience
Enthusiasm for teaching of Japanese to corporate clients
Once accepted, new recruits undergo further on-the-job in-company training to specifically enhance their abilities as MACC Japanese instructors. The training amounts to 200 hours with the topics covered including the effective course designs and practices as well as comparative study of available textbooks at beginners, intermediate and advanced level.
Integrated Training Services
We pride ourselves on our ability to provide a truly comprehensive Japanese language training service to corporate clients from the initial application to reporting and budget control. Our fully qualified office administrators are dedicated and committed to their work and happy to help clients in any way.
Types of Reports
Reports
Contents
Monthly Status Report
Submitted every month to include monthly cost concerns
Progress Report
Handed to the trainee each time he/she takes a level test and completes one level
Evaluation Report
Results analyzed and shared with the trainee and his/her training section
Individual Report
Produced upon request to confirm the achieved areas of study
Flexibility in Organizing Lessons
Flexibility in lesson arrangements minimizes business or social pressure on trainees.
Class scheduling
MACC allows any number of Japanese lesson hours to take place at one time, scheduling lessons with any frequency at any interval. This inevitably reduces the number of short notice cancellations, thus increasing productivity in learning, and contributing to cost savings.
Easy cancellation and rescheduling
Trainees need only to phone or email us before 5:00pm of one working day prior to the day of the scheduled lesson, to avoid a cancellation charge. A makeup lesson can be arranged, if needed, without any additional fee.
Class venue
Trainees can come to our classrooms to be free from a busy work environment, or we can send our instructors to their offices or residences to save traveling time.
Quality Control
MACC has various in-company quality control activities shown as below.
MACC Quality Control Activities
Activities
Participants
Objectives
Frequency
General Japanese Teachers' Meeting
All the instructors

To review the courses
To share information related to language teaching
To improve teachers' presentation and communication skills

Once a month
Individual Meeting
Individual instructors and the Director

To discuss individual courses
To review instructors' personal development

Once a year,
and as and when needed
QC Groups
All the instructors in groups

To discuss, review and suggest improvements to all aspects of courses in progress

Once a month
Annual Summer School
All the instructors

To review training methods and materials
To receive lectures in the professional field of teaching

Once a year
Project Teams
Majority of instructors

To develop training materials
To improve the quality of instruction

Once a month,
and as and when needed
In-company Training
New recruits

To get familiarized with the MACC method and training materials
To acquire the necessary skills to effectively explain grammar points, conduct oral drills and offer an enjoyable course design
To exchange views about lessons

Twice a month
(200 hours in total)
Trainees' Evaluation System
MACC has various feedback and evaluation systems as shown below:
Types of Evaluation and Feedback
Types
Trainees concerned
Contents of discussion
Frequency
Annual Evaluation
All the trainees
Teaching style, materials, course design, overall rating
Once a year
Occasional feedback
Trainees having completed one level and the trainees requiring a feedback
Effective learning methods, target setting, etc.
On completion of each level and when necessary
Hotline
Trainees contacting MACC with their comments or requests
Class contents, instructor's performance, etc. discussed individually between the trainee and the Director of the Studies
When necessary
The overall satisfaction of trainees is very high with the scores of over 80% and the return rate of over 70%.
MACC Annual Evaluation Data (Japanese Lessons) out of 5
For the past 3 years
(Return Rate)
(76.2%)
(72.1%)
(70.8%)
Overall Rating
4.67 (93.4%)
4.58 (91.6%)
4.54 (90.8%)
Design/Contents
4.39 (87.8%)
4.32 (86.4%)
4.41 (88.2%)
Teaching Style
4.79 (95.8%)
4.73 (94.6%)
4.70 (94.0%)
Training Materials
4.30 (86.0%)
4.23 (84.6%)
4.31 (86.2%)